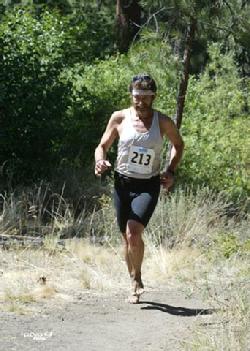 Last Mile of Trail Marathon - Bend, OR
My name is Bruce Toien. "Barefoot Bruce" is my moniker, for I've been running barefoot for many years — a couple of decades — by now. I run barefoot because (like other physical activities I enjoy doing such as hiking, biking, swimming, skiing and so on) it's a rich experience, a rewarding realm of mastery that offers opportunities to learn all kinds of new things about my body, myself and the world around me. But above all, running barefoot is freeing, fun and (most of the time) a simple joy!
The purpose of this website is to share with you my experience of barefooting, to discuss its benefits from a biomechanical perspective, describe specific technique and suggest how you can apply it to your own running* — even if you keep your shoes on.

I also provide reference links to research, articles and websites hosted by other barefooters. Last but not least, I invite you to ask questions, make comments and give me feedback at

bruce@barefootbruce.com

for improving this site.
Important Disclaimer: What I describe on this site is based on personal experience, research and conversations with podiatrists and chiropractors. HOWEVER, I am NOT a medical or sports professional, so you should consult with one before adopting any of the techniques I describe here.
---
The original motivation for setting up this site was to try to answer in one place the various questions people ask when they see me running without shoes or hiking barefoot or simply going for an unshod evening walk around the neighborhood with my wife Gail (who chooses to use shoes).

Folks are naturally curious about a man who has willingly tossed aside his shoes like a restless kid. I admit, it's a pretty unusual sight in our "advanced" society; but I hope that after you peruse my website you will see that the human foot is an engineering wonder far more sophisticated than the most technologically advanced shoe. (I think there's a metaphor in there, about our feeble attempts to emulate the dazzling complexity of natural systems ... but I digress!)


I have organized this website around the most frequently asked questions (FAQ's) people ask me when I'm barefooting. I have also included a few questions no one has verbalized but which I am sure many have neverthe less thought quietly to themselves!


---
And now, without further ado, here for you, are the FAQ's …

"Why are you running / hiking / walking barefoot?"
Simply stated, I enjoy going barefoot. Always have. You too, I'll bet – under the right conditions, at least. A grassy field or a plush carpet for instance. Or a white sand beach. The only difference is, I have extended the range of places where I can reasonably enjoy the experience of going barefoot. I did this by ...

(click here to continue)


---
"How and when did you start going barefoot?"
At birth – like you!

All right, that's kind of flippant, but it's true — our feet are not designed to wear shoes, else we would have come into the world that way! Wearing shoes, though sometimes a necessary evil, compromises the magnificent functionality of the complex and mind-blowingly versatile appendage known as the human foot. Wait – shoes are a "necessary evil"? My answer is: Yes.

I maintain that shoes are more of a problem than a solution; if you doubt that, just take a look at Dr. Scholls' quarterly earnings statements!



(click here to continue)


---
"You must have tough feet! Doesn't it hurt?"
My usual response is: "Naw, not after years of practice!" Now this may come as a surprise, but for me, the subject of tough feet is the least interesting aspect of barefoot running. Sure, it's important, but it is just a means to an end. I often describe the foot toughening process as merely the "entrance fee" to a new realm of experience: running virtually anywhere I want without artificial aids.

Even if you remove the "anywhere" stipulation, there are still plenty of locales where you don't need especially tough feet to enjoy going barefoot.


Imagining that foot toughness defines the barefoot running is a little like saying that raw strength is what defines gymnastics or ballet or soccer. Strength is certainly a prerequisite for those activities, but not defining. Similarly, toughened-up feet are a prerequisite for barefoot running, but not the reason for doing it.



Now, don't get me wrong — it's pretty cool to have feet so tough I can go almost anywhere without shoes. But that coolness factor is only secondary to the new adventures that have opened up to me!



---
"What about rocks, glass, et cetera?"
Rarely an issue. Rocks are uncomfortable, but seem to do no damage. What little broken glass can still be found at the roadside in this era of plastic bottles tends to have been schmooshed down flat. In any case, I stay attentive to the ground ahead of me – sort of like watching the road when you're driving! And if I do step on something sharp (which does happen occasionally), that's what the "ouch" sensation is for:

If I step on a rock, I don't put any more weight on that foot. My motto: "Tread lightly!" If it's something more painful, that's where the recoil reflex kicks in. If you put your hand on something sharp, you recoil. Same with feet.

The only thing that really gets to me is thorns. I've taken quite a few thorns in my day. If they're stout, they pull back out. But if they break off, that can be unpleasant for few days. Solution? I'll run on gravel if I have to, but try my best to avoid thorns!

That said, it's a fact that most us went barefoot as children without serious mishap – and enjoyed the heck out of ourselves. We'd kick our shoes off at the drop of a hat. So what happened? We were taught that, without shoes, the very thing we were enjoying doing was … impossible.

(click here to continue)

---
"Quick question: Are you crazy?"
Why yes, thank you for noticing!

(click here to continue)
---
"In any case, aren't you afraid of damaging your feet?"
Quite to the contrary. Feet are made for walking and running without the dubious aid of shoes. My formerly flat feet have gotten stronger and developed a modest arch. But what really surprises people – and even myself – is this. I've found barefoot running to be much gentler on the joints. It's not so much the bare foot as the technique required to run barefoot that is the game-changer.


In fact, if you take anything away from this website I hope it will be this: Shoes allow you to landing on your heel and THAT is what is damaging, jarring the whole body from bottom to top. In contrast, bare feet force you to land on your forefoot and spread your toes. THAT is what allows your foot to do the job it was designed for, namely cushioning the impact and adapting to whatever terrain is under it.


There is an organizing principle here. Evolution (via natural selection) is a process of optimization. That begs a simple question: Why in the world would we expect our feet, optimized over 3.5 million years for barefoot walking, to work better bound up in shoes?




(click here to continue)

---
"Well even with the benefits, there's no way my feet could do this … is there?"
Well, I have to concede that some people have feet that are naturally more tender than others'; and some have feet that are thicker and tougher. Regardless, a lifetime of wearing shoes makes everyone's feet softer.

Whether your feet are tender by nature or nurture, there are a lot of "in between" options. You can strengthen the muscles in your feet by running barefoot on a grassy field – say at your local park or playground. Or the beach. Track coaches know this.

You can also simulate barefootedness with some innovative new lines of footwear from Nike and Vibram (see "Barefoot Based Products").
And if you're really interested in taking the "next step", here is a way to gradually challenge to your feet over a period of several months ...

(click here to continue)

---
"Does anyone else do this?"
When I started, I wasn't aware of anyone else in American society running barefoot, but was certain I wasn't the first! An Internet search turned up Ken Bob Saxton's marvelous site www.runningbarefoot.org and that is where I got my "advanced education"!


There are many other individuals and groups around the country who either run barefoot or hike barefoot. With our enormous semi-wilderness Forest Park and many other green areas, Portland is a great place for all of the above.



(click here to continue)


---
"Is there any research or other information out there?"
Much of what is presented here is based on a single data point, "an N of one", namely me and is intended primarily to do two things:


Answer the question, why do I run barefoot? and
Offer some insights into the benefits, biomechanics and techniques of barefoot running


My chiropractic sports podiatrist, Ted Forcum, DC, a former elite runner himself, is one of the foot specialists who has been supportive of my barefoot running (albeit with the caveat that not all people have the same kind of durable foot structure as I do). He wrote an interesting and informative article in a chiropractic journal about the biomechanics of barefoot running. I've included a link to it under "References".


If you are interested in pursuing the topic further, I have included links to various other references that are more extensive and/or scholarly than my own here.



(click here to continue)



---
"Hey, wait a second – how come you're wearing shoes today?"
Shoes do have their place in certain running and/or social contexts, I cannot deny that ...

(click here to continue)

---
I thought you'd never ask! You bet!

(click here to continue)

---



"How Can I Ask You a Question or Give You Some Feedback?"


Your comments, questions and feedback are always welcome.

(click here to continue)
---
* SUCCINCT DISCLAIMER

A non-fun but awfully important item: I am not a professional in this field, merely an avid amateur; so I expect each person who experiments with the ideas and techniques I describe here to first consult with a real professional (doctor, coach, podiatrist, sports physiologist, etc.) and otherwise take full responsibility for any and all adverse consequences.

Copyright © 2021 by Bruce Toien
Website powered by Network Solutions®